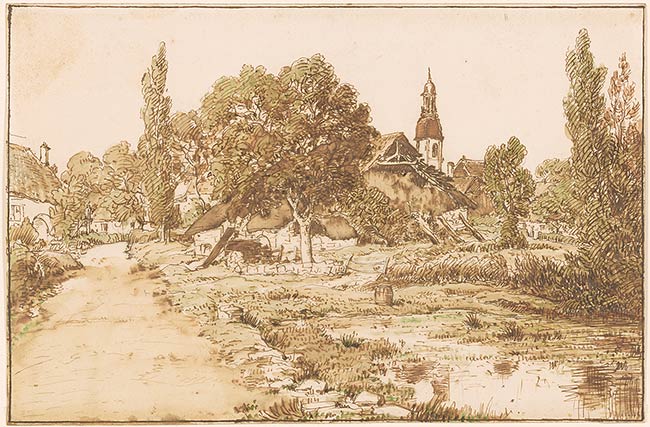 Village and Church of Beurre, Franche-Comté
Pen and brown ink and wash, green watercolor, over graphite, on wove paper.
6 11/16 x 10 1/16 inches (170 x 257 mm)
Purchased on the Ryskamp Fund.
Inscription:
Numbered and inscribed in graphite variously on verso, at upper left, "695 [illegible inscription]"; at upper right, "No. [illegible inscription]"; at lower left, "Village de Beurre [illegible inscription]"; Rousseau sale stamp at lower right, "THR" (Lugt 2436).
Provenance:
The artist's estate; Rousseau estate sale, Paris, Durand-Ruel and Brame, 27-30 April 1868, no. 127; Hector Brame, Paris; sale, London, Sotheby's, 16 November 1994, no. 103; R. M. Light & Co., Inc., Santa Barbara, CA.
Notes:
Largely unsuccessful in academic art circles, Rousseau was dubbed "le grand refusé" (the great reject) for the number of times the statesponsored Paris Salon declined to exhibit his work. He turned to the wilderness, first visiting Fontainebleau forest to create tree studies in the 1830s and opening a studio in Barbizon the following decade. This late drawing depicts an approach to the historic village of Beurre, located in a mountainous region of eastern France where Rousseau traveled during a frustrating period of financial insecurity.
Throughout his career, Rousseau had strong ties with the Franche-Comté, a mountainous region near Switzerland in eastern France. Rousseau's wife and father came from the region, and his earliest recorded work as a traveling artist consists of a sketchbook filled with drawings of the Jura landscape. In 1863, Rousseau undertook the last important journey and artistic endeavor of his career when he traveled to La Faucille to make preparatory works for an ambitious painting of Mont Blanc. "The Village and Church of Beurre" (or Beure) frames a view of a thatched cottage as both a Dutch-inspired composition and a depiction of French provincial charms; the sharply drawn bell tower announces the particular ecclesiastical style of the region.