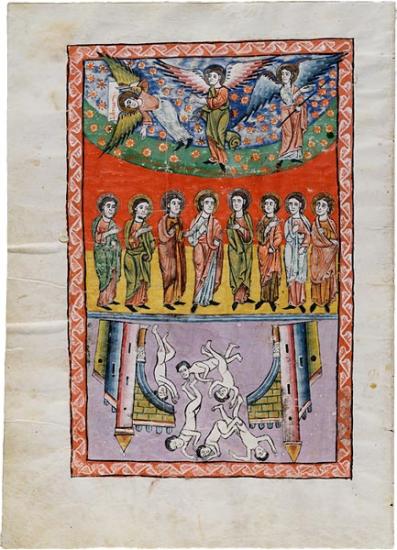 Angel Of The Eternal Gospel, Worshipers, And The Fall Of Babylon
Beatus of Liébana
Las Huelgas Apocalypse
Purchased by Pierpont Morgan, 1910
Page description:
And I saw another angel, flying through the midst of heaven, holding the eternal Gospel, so as to evangelize those sitting upon the earth and those of every nation and tribe and language and people, saying: "Fear the Lord, and give honor to him, for the hour of his judgment has arrived." And another angel followed, saying: "Fallen, fallen is Babylon the great, who inebriated all nations with the wine of her wrath and fornication." And the third angel followed them, saying: "If anyone has worshiped the beast, or his image, or has received his character on his forehead or on his hand, he shall drink also from the wine of the wrath of God, and be tortured with fire and sulfur in the sight of the holy angels and before the sight of the Lamb." (Rev. 14:6–10)
All three angels appear at the top. The one with the eternal Gospel points to a scroll inscribed Librum (Book) and to the haloed figures below who obeyed his words. At bottom is the fall of Babylon, where corpses, some with open eyes, fall through the upside-down broken gate to the city.
About this exhibition:
The Apocalypse, or Book of Revelation, is not only the last Book of the New Testament, but its most difficult, puzzling, and terrifying. It provided challenges to medieval illustrators and was the source for a number of popular images, such as Christ in Majesty, the Adoration of the Lamb, and the Madonna of the Apocalypse and contributed to the widespread use of the Evangelists' symbols.
Selected images from Apocalypse Then: Medieval Illuminations from the Morgan, an exhibition held at the Morgan are presented here. The exhibition celebrates the completion of a facsimile of the Morgan's Las Huelgas Apocalypse—the latest dated (1220) and largest surviving manuscript of a Spanish tradition of illuminated commentaries on the Apocalypse by the monk Beatus of Liébana. The series of manuscripts constitutes Spain's most important contribution to medieval manuscript illumination.
The Las Huelgas Apocalypse contains three sections: the prefatory cycle, the Apocalypse, and the Book of Daniel.
In addition to forty-nine images from the Las Huelgas Apocalypse, six images from other manuscripts in the Morgan's collections, including the earliest Beatus painted by Maius and one by the Master of the Berry Apocalypse, are in this presentation.