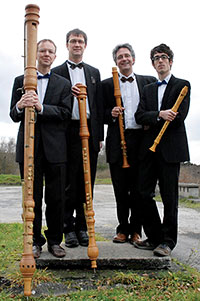 Flanders Recorder Quartet 

Boston Early Music Festival Series

Cécile Kempenaers, soprano


A Song for All Seasons—Instrumental Music and Songs from the Renaissance
Since its founding in 1987, the Flanders Recorder Quartet is one of the world's top ensembles, performing more than 1800 concerts in 42 countries on five continents. Works by Byrd, Dowland, and others.
The exhibitions Power and Grace: Drawings by Rubens, Van Dyck, and Jordaens and Now and Forever: The Art of Medieval Time will be open at 6:30 pm for concert attendees.
Thursday, February 22, 7:30 pm