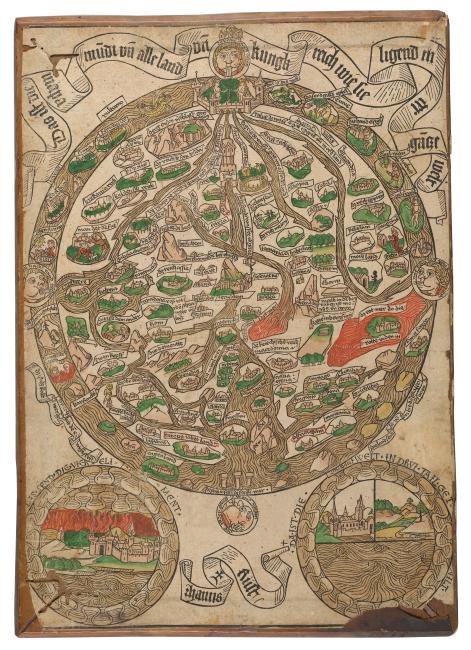 Description:
1 leaf : ill. (woodcuts), map ; (fol.)
Notes:
1st ed.
Single woodcut leaf; signed, Hanns Rüst and with his mark of a cross surmonted by a crescent; probably cut by him (from an unidentified design) in Augsburg, Germany in the last quarter of the 15th century (ca. 1475-1482).
Size of leaf: 11 1/8 x 15 3/8 inches.
Outer diameter of map proper 10 5/8 x 10 7/8 inches.
When purchased this map was pasted on the inner front cover of Strabo. Geography, Venice: Vindelin de Spira, 1472 (PML 19291; ChL 730); this cover, containing the map has since been removed from the volume, and laid in a green morocco box-case.
This map was later accessioned as PML 19921.
See Hassinger, R. Deutsche Weltkarten-Inkunabeln, 1927, who considers the St. Gall and Würzburg maps, by Hanns Preifmaler = Hanns Sporer to be slightly later copies of this (Morgan-Hans Rüst) map. Rüst was a cartographer and woodcutter who worked at Augsburg in 1472-1497. A single woodcut leaf "The Death" by him is in the Print collection at Munich. For bibliography see note laid in with map.