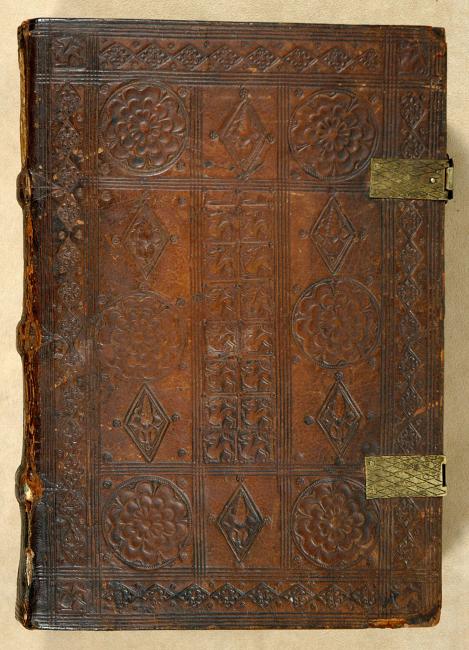 Published:
Nuremberg : Friedrich Creussner, 1478.
Description:
[186], [102] leaves ; 30 cm. (fol.)
Credit Line:
Purchased as the gift of Julia P. Wightman, 1982.
Notes:
Title from ISTC.
Colophon to Part I (leaf [23]/8v): Questiones super evangelia de tempore Joha[n]nis de turrecremata Finiu[n]t feliciter. Impresseq[ue] Nur[e]mberge per Fridericu[m] Creuβner eiusde[m] civitatis incola[m]. Sum anno d[omi]ni .1478.
Printed in Creussner's type 1b:110G.
Collation: Part I: [1¹⁰ 2-23⁸] 186 leaves, leaf [1]/1 blank; Part II: [1-10⁸ 11-12¹⁰]: 102 leaves, leaf [1]/1 blank.
Chancery folio (27.8 x 20.1 cm.)
In two parts, both dated 1478.
PML copy is Part I only.
Binding:
Contemporary blind-stamped calf over wooden boards (29.5 x 20.5 cm.), sewn on 3 supports by the Rose rund workshop at Erfurt (EBDB w002600), active ca. 1476-1479. 12th/13th-century vellum manuscript used as pastedowns; decorative endbands. 2 clasps, 1 wanting.
Variant Title:
Questiones super evangelia de tempore
Inscriptions/Markings:
Hand decoration: Rubricated, red lombards and paragraph marks; red lombard with yellow-green filigree decoration (leaves I:[1]/2r and II:[1]/2r). Rubrication style changes at quire [21] to lombards and paragraph marks with florid extensions. Annotations: No notations in text. Contempoary manuscript quire numbering, mostly trimmed. Inscription "53" might refer to total number of quires in Sammelband (Quaestiones, leaf [1]/1v).
Provenance:
Unidentified shelf mark: I 20 (Quaestiones, leaf [1]/1r); Hans Fürstenberg, Ex musaeo booklable (front pastedown); Martin Breslauer, cat. 106 (1982), no. 13; Pierpont Morgan Library, purchased from Breslauer as the gift of Julia P. Wightman, 1982.