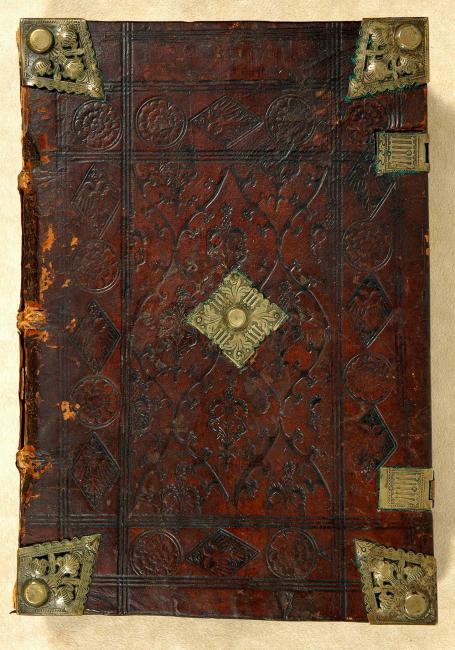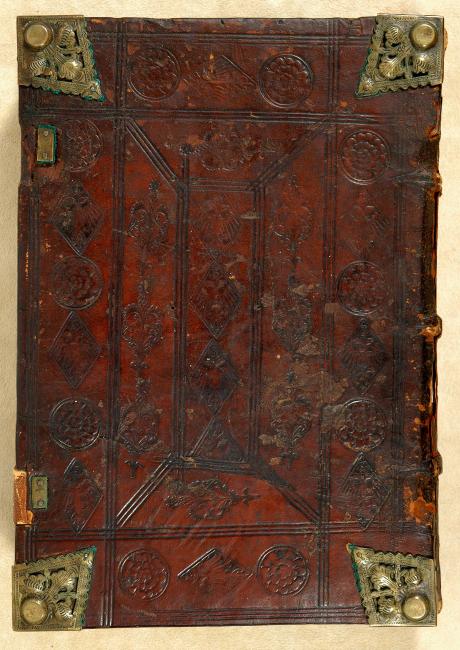 Published:
[Strasbourg] : Martin Schott, 6 Nov. 1483.
Description:
[154] leaves : illus. (woodcuts) ; 31 cm. (fol.)
Credit Line:
Purchased with the Bennett collection, 1902.
Notes:
Author and title from incipit, printed in red (leaf [1]/2r): "Diβ bůch ist genant die vier und zwentzig alten oder der guldin tron gesitzet von brůder Otten von passowe etwan leβmeister der mindern brüder barfůsser closters der stat Basel mit vil schöner berichtunge der lerer der heiligen geschrifft die minnende sele zů dem ewigen götlichen wolgeuallen."
Colophon (leaf [19]/9r): "Getrücket un[d] vollendet durch martin Schotten an donstag nechst vor sant Martins tag Anno d[omi]ni [et]c. M.cccc.lxxxiii. iare."
Printed in Schott's type 1:99G.
Quire register on leaf [19]/10r.
Collation: [1⁴ 2¹⁰ 3-4⁸ 5¹⁰ 6-9⁸ 10⁶ 11-12⁸ 13¹⁰ 14-18⁸ 19¹⁰]: 154 leaves, leaf [1]/1 blank.
Chancery folio (29.6 x 20.7 cm.)
Woodcuts of Christ in a mandorla surrounded by the 24 Elders (leaf [1]/4r), St. John the Evangelist (leaf [1]/4v), 3-part border and initial (leaf [2]/1r), and two woodcuts of enthroned elder instructing a woman in a crown at each chapter incipit (see Schramm, XIX p. 15).
Binding:
15th-century blind-tooled dark brown calf over wooden boards (31 x 21 cm.), sewn on 3 supports in Nuremberg by the Artischocke I workshop (EBDB w000360; Kyriss 113, a.k.a. Ulm Doppelaldler and Granat workshop, active ca. 1475-1511); repaired/rebacked (by Duprez Lahey?). Stamped and embossed corner furniture and central boss; square catchplates, one clasp wanting. Plain paper pastedowns and fly leaves; plain endbands. Bookmark strings sewn into top endband. Blind-tooled modern leather label on spine, "Otto von Passau."
Inscriptions/Markings:
Hand decoration: Rubricated, red and blue lombards and red capital strokes (same in PML 52.2/ChL 420). Woodcuts are hand-colored in red, yellow, green, and brown. Annotations: Contemporary manuscript signatures and quire numbers, partially trimmed; German (purchase?) inscription, 1491 (leaf [1]/1r); title inscription, "24 Alten" (top edge). German and English bibliographic notes on other editions (first flyleaf recto).
Provenance:
Georg Kloss (1787-1854), bookplate (front pastedown) and bibliographic notes (front fly leaf recto); Kloss sale, Sotheby's, 7 May 1835, lot 4469 (?--does not mention Auslegung/Messe); W.H.S. Studnicke, 1839, signature and price code "e/-" (front pastedown) and bibliographic notes (front fly leaf recto); William Morris, Kelmscott House, Hammersmith (1834-1896), booklabel (front pastedown); Richard Bennett (1844-1900), armorial bookplate (front pastedown); Pierpont Morgan Library, purchased with the Bennett collection, 1902.