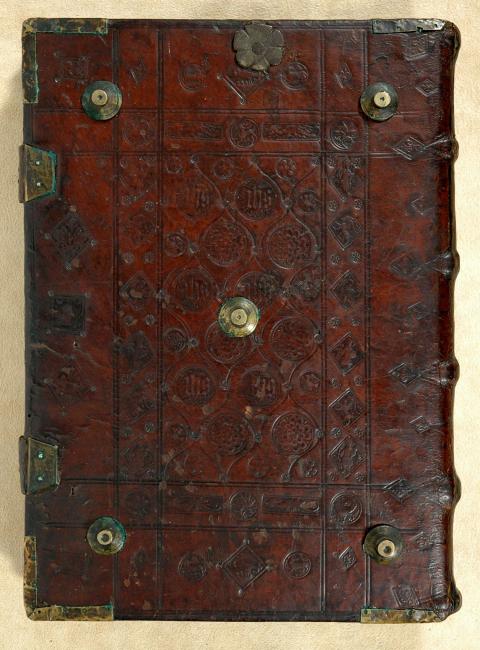 Published:
[Basel] : [Johannes Solidi (Schilling]), [not after 1476]
Description:
[228] leaves ; 29 cm (fol.)
Notes:
Title from incipit (leaf [1]/1r).
Werner von Schussenried is named as author of the Modus legendi in an acrostic in the text. The true author of the Defensorium iuris is Gerardus (or Gebhardus) de Rheinau (BSB-Ink).
Printed in type 98G attributed to Schilling.
Dalbanne and Droz (IX and p. 28), followed by CIBN (M-492), date to 1476 when Schilling was still at Basel (cf. BMC VIII, xxvii) and this is confirmed by a MS date in the copy at Basel (formerly in the Carthusian house there), but Goff to 1478 when Schilling had moved to Vienne. Polain (2746) assigned to Cologne or Basel. Also recorded as [Vienne: about 1478] and [Cologne: 1470] (ISTC).
Collation: [1-5¹⁰; 6-11¹⁰; 12-18¹⁰; 19-21¹⁰; 22¹⁰ 23⁸]: 228 leaves, leaf [23]/8 blank.
Chancery folio (27.7 x 20 cm)
Binding:
Contemporary blind-stamped leather over wooden boards (29.3 x 20.8 cm), sewn on 4 supports, bound by the Christuskopf workshop at Hildesheim (EBDB w000207); rebacked by Duprez Lahey. Plain parchment pastedown (front) and liturgical manuscript bifolium waste, late-14th/early-15th century (rear) with plain parchment fly leaf (front); plaited endbands. 2 clasps with Y-shaped catches; 5 cardinal's hat bosses per board and flower-shaped chain attachment on top of rear board; metal corner reinforcements. Fore edge tabs for individual works.
Provenance:
Pierpont Morgan Library, purchased from Nijhoff, 1923.