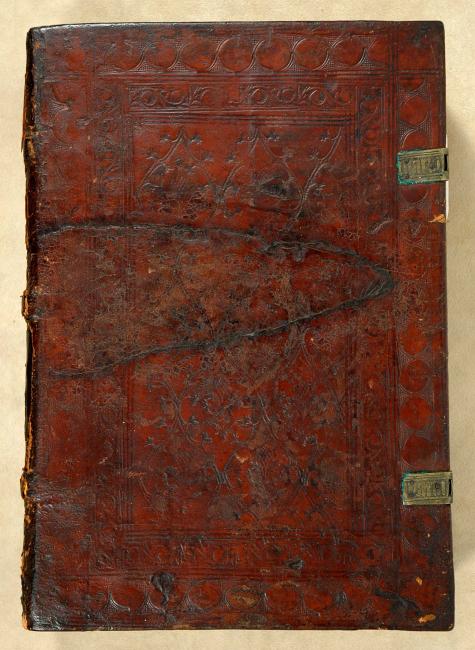 Published:
Augsburg : Anna Rügerin, 22 June 1484.
Description:
[8], erst-lxxviij, [8], erst-lxv [corr: lxxv], [9], i-C.lij, [44] leaves ; 31 cm. (fol.)
Notes:
Title from colophon.
Colophon (leaf [39]/8r): Hÿe endet sÿch der Sachsenspiegel mitt ordnung des rechten den der erwirdig in got vater und herr Theodoricus von bockβdorf bischof zů nuënburg säliger gecorrigiert hat. Gedruckt un[d] volendt von Anna Rügerin in der keÿserlichen stat Augspurg am aftermontag nächst vor Johannis. do man zalt nach Cristi gepurt .M.CCCC.lxxxiii. jar.
Printed in Rügerin's type 1:120G.
Collation: [1⁸ 2-8¹⁰ 9⁸; 10⁸; 11-17¹⁰ 18⁶; 19⁸; 20-37¹⁰ 38-39⁸]: 374 leaves, leaves [1]/1 blank.
Chancery folio (30.2 x 21.2 cm., temoin leaf [4]/6: 32.3 x 22.5 cm.)
Woodcut initials.
PML copy with duplicate leaf bound in: leaf [6]/4.8.
Binding:
Contemporary blind-stamped calf over wooden boards (31.5 x 22), sewn on 3 supports by the Augsburg Blüte frei workshop (EBDB w000899/Kyriss 77, a.k.a. Augsburg Bogenfries workshop), active ca. 1477-1497; repaired by Duprez Lahey. Plain paper pastedowns, front pastedown and rear fly leaf from Breviarium Augustanum (Augsburg) printed by Albrecht Kunne (ISTC ib01146800). 2 clasps, straps wanting.
Variant Title:
Sachsenspiegel: Landrecht
Inscriptions/Markings:
Hand decoration: No rubrication required. Annotations: No notations in text. Scrap leaf with 15th/16th-century German handwriting (leaf [23]/7v-8r).
Provenance:
Unidentified former shelfmarks: I. VI 50 and Inc. n. [??]n 327, 19th century(?) (front pastedown); unidentifed ink stamp, illegible, 18th/19th century (?) (front pastedown); Gilhofer & Ranschburg (Vienna), Cat. 200 (library of Hieronymus Holzschuher (1469-1529) and books removed from an Austrian castle), 1928, no. 27; Pierpont Morgan Library, purchased from L.C. Harper, June 1928.