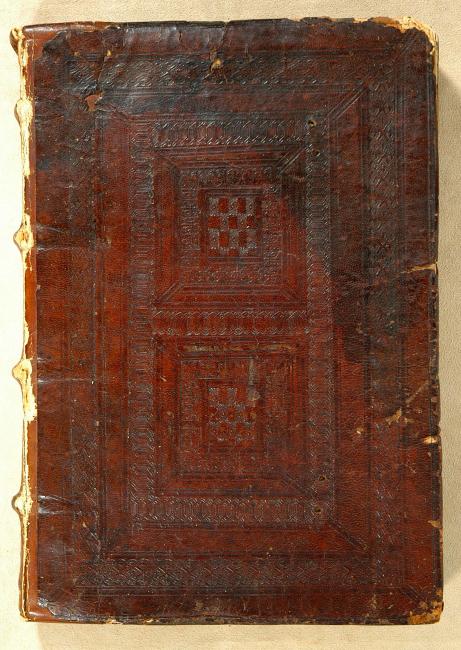 Published:
Rome : Conradus Sweynheym and Arnoldus Pannartz, [January or February] 1471.
Description:
[186] leaves ; 33.5 x 23 cm. (fol.)
Notes:
Title from incipit (leaf [2]/2r): Incipiunt epistole Cecilii Cypriani ad Cornelium Papam. Et prima de confessione. feliciter.
Colophon (leaf [19]/11r): Aspici illustris lector quicunq[ue] libellos / Si cupis artificum nomina nosse: lege. / Aspera ridebis cognomina Teutona: forsan / Mitiget ars musis inscia verba virum. / Co[n]radus Suueynheym : Arnoldu[m] pa[n]nartzq[ue] magistri. / Rome impresserunt talia multa simul. / Petrus cum fratre Francisco Maximus ambo / Huic operi aptatam contribuere domum / .M.CCCC.LXXI.
Printed in type 2:115R.
Collation: [1⁴; 2¹⁰ 3⁸ 4-12¹⁰ 13¹² 14-18¹⁰ 19¹²]: 186 leaves, leaves [1]/1, [2]/1, and [19]/12 blank.
Median folio (33.5 x 22.5 cm.)
Edited by Johannes Andreas, bishop of Aleria.
Printed in a run of 275 copies.
Binding:
Contemporary Italian blind-stamped leather over paper boards (33.5 x 23 cm.), sewn on 4 supports; rebacked. Plain paper pastedowns and fly leaves.
Inscriptions/Markings:
Hand decoration: Rubrication unrealized. Annotations: Contemporary manuscript title on bottom edge; manuscript title: Epistole Cypriani & Blondius (leaf [1]/1v), suggesting work previously bound with another title.
Provenance:
Unidentified shelf mark: Est. 2. Caj. 4. no. 1 (leaf [1]/2r); Pierpont Morgan Library, purchased from Giuseppe Martini, Aug. 1920.