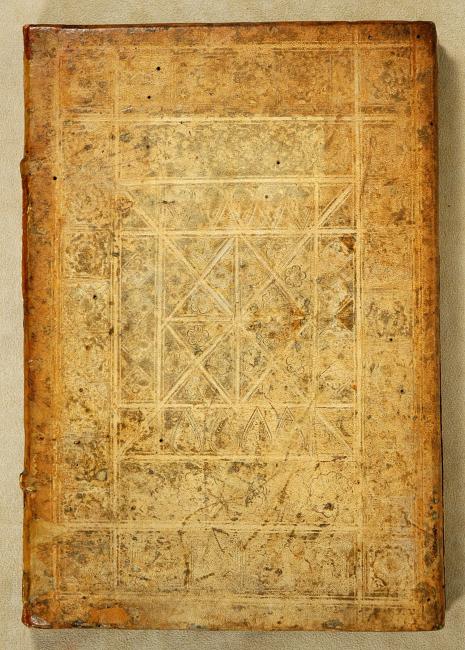 Published:
[Augsburg] : [Monastery of SS. Ulrich and Afra], [1472]
Description:
[46] leaves ; 31 cm. (fol.)
Notes:
Title from incipit (leaf [1]/2r): Hystoria Friderici imperatoris magni. hui[us] nomi[ni]s primi ducis sueuorum et pare[n]tele sue.
No colophon. Imprint based upon type and former Munich copy with rubricator's date of 1472.
Printed in the Monastery of SS. Ulrich and Afra's type 1:105R.
Collation: [1-4¹⁰ 5⁶]: 46 leaves, leaf [1]/1 and [5]/6 blank.
Chancery folio (30.7 x 21.5 cm.)
Pinholes about 3 cm. from text block, 2.5 above and 4.5 cm. below, respectively.
Binding:
Contemporary blind-stamped pigskin over wooden boards (31 x 21.5 cm.), sewn on 2 supports by SS. Ulrich and Afra, Augsburg (EBDB w000114/Kyriss 2); repaired by Duprez Lahey. Contemporary paper pastedowns. 1 clasp, wanting.
Provenance:
Christoph Scheurl (1481-1542), bookplate (front pastedown); Francesco Orazio Beggi (fl. 1848-1864), monogram bookplate (front fly leaf recto); his sales, Puttick and Simpson, 16 March 1864 and 22 May 1865; Bertram Ashburnham (1797-1878), Earl of Ashburnham, with shelf mark: 14.H (front pastedown); his sale, Sotheby's, 25 June 1897, lot 869; Charles Fairfax Murray (1849-1919), booklabel (front pastedown); his sale, Christie's, 10 Dec. 1917, lot 109, to Quaritch for Morgan, with collation note, 28 Dec. 1917 (rear pastedown); Pierpont Morgan Library, purchased at Murray sale via Quaritch, 1917 (accessioned 1919).