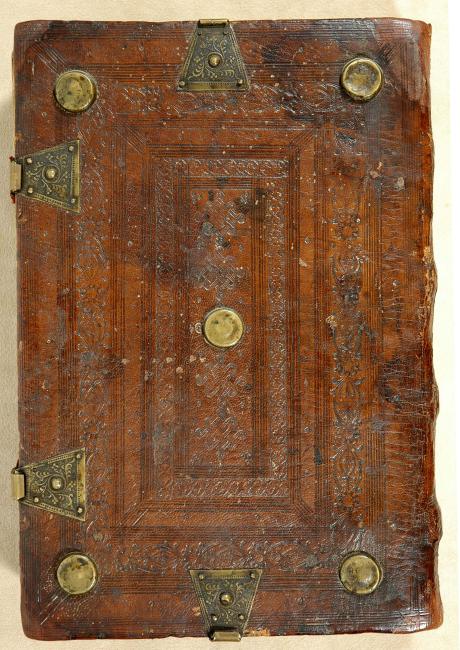 Published:
[Venice?] : [Antonio di Bartolommeo Miscomini], [about 1476-1478]
Description:
[324] leaves ; 30 x 20 cm. (fol.)
Credit Line:
Gift of Edgar S. Oppenheimer, 1956.
Notes:
Title from incipit (leaf 2a1r): "Queste illibro de sancto Augustino de lacita didio ilquale ediviso i[n]. xxii libri."
Printed in type 4:80R.
Collation: a¹²; 2a, b-z, A-G¹⁰ H¹²: 324 leaves, leaves a1 and H12 blank. Leaf a1 unsigned, a2 signed a, a3 signed aii, etc.
Chancery folio (29 x 19.6 cm.)
On the printer and date, see Accurti (1930) pp.145-6. GW assigns to Miscomini at Florence, and dates to not after 1483.
PML copy with variant incipit, leaf 2a1r (cf. GW).
Binding:
15th-century Italian (Venetian?) blind-tooled calf over wooden boards (30 x 20 cm.), sewn on 4 supports by the Rosettenmeister (possibly identified with Benedetto della Padoano). Round metal bosses and 4 clasps, 1 wanting. Plain vellum pastedowns and plain paper fly leaves; decorative endbands (modern?).
Provenance:
Premarin family of Venice, armorial, 15th century (leaf 2a1r); Prospero Capilupi (1575-1630), of Mantua, signature (front fly leaf); Pierpont Morgan Library, gift of Edgar S. Oppenheimer, Feb. 1956.