June 29 through September 23, 2007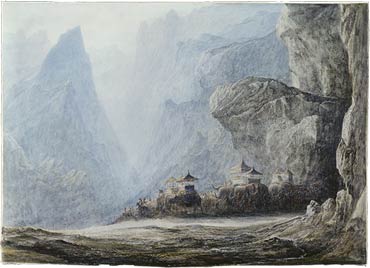 Tales and Travels was an exhibition of master drawings acquired for the Morgan over three decades with funds provided by the family of Sunny Crawford von Bülow. On view were more than eighty sheets by French, British, Italian, Dutch, Flemish, and German draftsmen from the sixteenth through the early twentieth centuries.
The selection was unified by a taste largely for drawings of the eighteenth century and encompasses both rococo and neoclassical traditions. French masters Antoine Watteau and Jean-Auguste-Dominique Ingres, and British draftsmen J. M. W. Turner and Samuel Palmer, were represented. A particularly cohesive group, many of these drawings are highly finished, colorful, independent works of art. They reflect a devotion to literary and historical subjects, as well as a keen interest in landscape both familiar and foreign.
Tales and Travels was accompanied by a fully illustrated catalogue documenting the works acquired on the fund since 1996. It was written by Kathleen Stuart, Assistant Curator, Drawings and Prints, The Morgan Library & Museum.