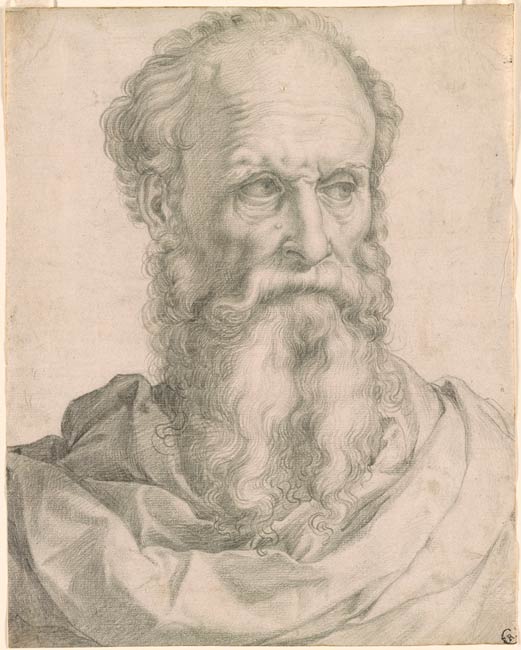 Head and Shoulders of a Bearded Man (Baccio Bandinelli?)
11 15/16 x 9 7/16 inches (301 x 240 mm)
Purchased by Pierpont Morgan (1837-1913) in 1909.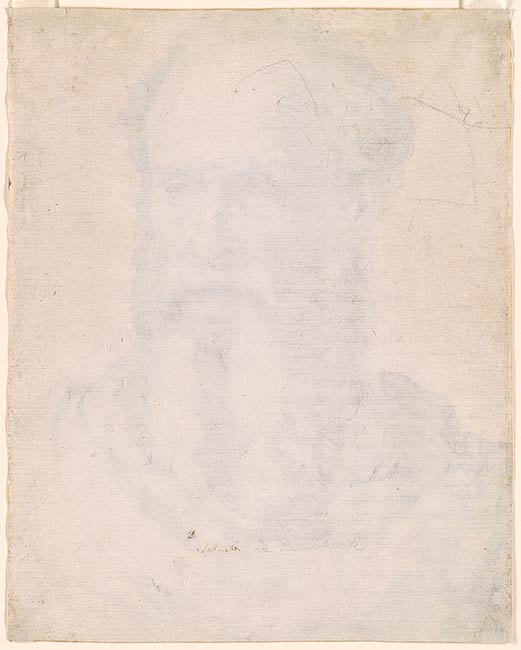 Inscription:
Inscribed on verso, at lower center, in pen and brown ink, "Salviati"; in pencil, "m. heemskerck". Accompanying the drawing is an inscription, in pen and brown ink, in the hand of Jonathan Richardson Jr., removed from an old mount and pasted down to the current mount, "Baccio Bandinelli / Il suo Ritratto / N. There was written upon an Old Pasting of this Drawing, in a good Ancient Hand, that it was / the Portrait of Baccio Bandinelli by / Martin Heimskirk; which is not unlikely, He being in / Italy in the time of Baccio, & of the Age of the Portrait; which is evidently Baccioþs as ap/pear by That of Giorgio Vasari's Life of him (Baccio 1487...1559. Heimskirk 1498...1574). / It hath also been said to be of Cecchino Salviati; which may very well be too, He being ac-/tually of the School of Baccio, & of a Time that agrees (1507...1563). This name is now / on the back, & it is in his Stile of Finishing".
Provenance:
Jonathan Richardson Jr., London (1694-1771; Lugt 2170); Richard Cosway, London (1740-1821; Lugt 629); Sir Thomas H. Crawley Boevey, fifth baronet; his sale, London, Christie's, 30 July 1877; Charles Fairfax Murray (1849-1919), London and Florence; from whom purchased through Galerie Alexandre Imbert, Rome, in 1909 by Pierpont Morgan (1837-1913), New York (no mark; see Lugt 1509); his son, J. P. Morgan, Jr. (1867-1943), New York.
Notes:
Watermark: none.
Formerly attributed to Baccio Bandinelli and Anonymous Italian School, 16th century from Florentine.